September 27, 2019 - September 28, 2019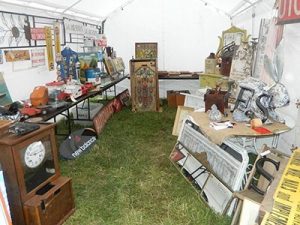 Evangeline Parish Arts & Treasures Trail
Parish-wide Art, Yard, and Small Business Sale
FRIDAY, SEPTEMBER 27TH & SATURDAY, SEPTEMBER 28TH
It is time to clean out those closets, time to purge all that extra STUFF, TIME TO MAKE SOME MONEY.  Registration forms can be picked up at the Evangeline Chamber of Commerce or email cajun@vpchamber-tourism.org to have a form emailed to you.
Yard Sales, Local Shops, and Artist will be selling antiques, arts, crafts, woodworks, paintings, jewelry, jellies, odds and ends in Ville Platte, Mamou, Basile, Chataignier, Pine Prairie, Turkey Creek, and the outskirts of town.
Online map of yard and business sale's locations can be found at https://www.evangelineparishtourism.org/cat/art-and-treasure-trail/
Hosted by the Evangeline Chamber of Commerce & Tourism Commission.
To participate call us at 337-363-1878 for more details!
Location:
Category: Arts & Treasure Trail