Ville Platte Opportunity Zone Prospectus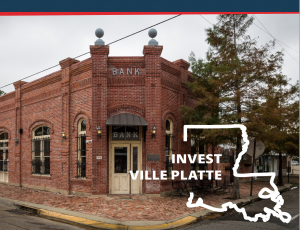 Click on the link below to download the prospectus and learn more about Opportunity Zones and Investment Benefits.
City of Ville Platte
Working With Businesses Large and Small
Ville Platte is strategically located in east central Evangeline Parish on U. S. Hwy. 167, which traverses the state in a north – south direction. In addition, the Acadiana Railway runs through the heart of town which intersects to the north at the Union Pacific Railroad where it goes north Alexandria and southeast to New Orleans. The Acadiana Railway also runs south to the Union Pacific Railroad that runs east to Baton Rouge and west to Lake Charles. Add to that the fact that Ville Platte can get to Interstate 49 in two directions; 13 miles northeast to interstate 49 on Louisiana Hwy 29 and 19 miles southeast on U.S Highway 167 and you will understand why Ville Platte is in the perfect location for business.
Ville Platte is home to very skilled welders, machinist, engineers, and highly talented administrators. We also have many fertile lands in which farmers have very high crop yields.
Below, you'll find a map of our Industrial Park which has room for more businesses to thrive.
Call us to find out more about our local economy and what we can do to help your business grow.