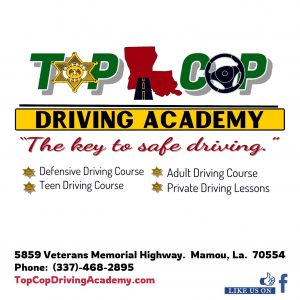 by Tobin DeVille
In honor of Black History Month, let's discover the back story and path that brought us Top Cop Driving Academy and its owner/operator Brian Ardoin.
Brian is a life-long resident of Evangeline Parish who married his high school sweetheart, Katrina. In fact, there's a good chance you have already met one or both as Katrina is the principal at Ville Platte Elementary School. Together they own Top Cop Driving Academy.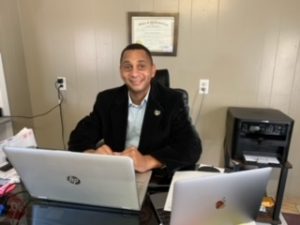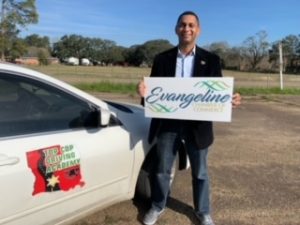 A quick look at Brian's education– a high school degree from Pine Prairie, undergraduate degree from McNeese and graduate degree from Southern University in Criminal Investigation, not to mention attending classes at Grambling (on a basketball scholarship), LSUE and LSU Baton Rouge. On top of it all, Brian passed his LSAT and was accepted into law school. Not bad for a young man who really just wanted to play basketball!
As a kid he had his sights on becoming an FBI agent. His curiosities and passions lead him to work in the Mamou Police Department, at Vidrine Elementary as teacher and coach, at a casino as a security officer, at a prison as a correctional officer, for the Louisiana State Police as a road trooper and taser instructor, and under the Evangeline Parish District Attorney as Director of Pretrial Intervention. Somewhere in that time line, Brian was activated in the Marine Corps Reserves (which distracted him from attending law school).
Top Cop Driving Academy was created from a desire to help Evangeline Parish youth. Seeds were planted when Bria,n (known as State Trooper Ardoin at the time) observed a young lady attempting to fill a gasoline car with Diesel and another time when he taught a young man to change his car's tire on a road side. He realized many kids for different reasons, weren't learning simple vehicle survival skills. In 2016 he created his own curriculum, became licensed and opened his doors.
Together with his wife Katrina, and a staff ranging from 5-7 people, (depending on what phase of the pandemic we're in) Top Cop teaches and drivers, both teens and adults, in a different type of driver's education. Guest speakers and vehicle maintenance add to the depth of training and exposure provided to Top Cop students.
As a hobby, Brian spends his off-hours talking with people running their own businesses who need help and guidance to transform to legitimate businesses. "They truly don't understand why should I give up more of my money to the government for licenses and all these other things when it's not going to help me get any more business. So, you have to say here's what you're going to pay, but then here's what you get."
…and Brian hasn't yet celebrated his 50th birthday. In fact, he's far from it.
"I believe in Evangeline Parish. We really have much more in common than we have differences."
-Brian Ardoin